Have you encountered the new range of side by side refrigerators from Samsung? The era of smart hub begins with touch screen, wifi connections, and a lot more to welcome within your kitchen is now offered by Samsung. Find the lowest price for the Samsung side by side refrigerator listed below on this page with the most recent price drops. All this displayed under one page making it a hassle-free job for you to choose the best one within your budget.
This era of technology has given us much more than we ever expected. Samsung, as one of the leading electronic product manufacturer, offers a range of products in terms of home appliances and other consumer products like smartphones, laptops, hard drives, etc. While performance is remarkable and so is the quality customers find it hard to make a shift when it comes to consumer products. One such range would be side by side refrigerators.
Recently Samsung has offered a new range of products that offers an intelligent way of living for its customers. With the launch of SpaceMax Family Hub, Samsung has empowered the kitchen like never before.
Would you believe that you could actually see what's inside a refrigerator without even opening the doors of it? Yes, it's now possible for you. Check out the list of what more it has to offer as a smart hub refrigerator. 
Space Max Family Hub Refrigerator has the following features to offer
It comes with 657 liters of capacity.
The customer will enjoy 10 years of warranty on its digital inverter compressor.
With the help of an inside camera, you can view all items without even opening the door of the refrigerator. How does it help? Well, there are many benefits to this but let's take one example to this. Suppose you are out shopping and you are not sure about the stock. Now with the help of a smart hub app, you just can view everything inside your refrigerator without even making physical contact with it. This gives you much more control over your refrigerator along with other features it offers. 
The built-in screen offers family members to

share photo albums, write to memos, thought of the day, plan your day,

and much more to showcase on the screen. These activities, in turn, helps to form a stronger bond between family members.
With the help of the voice control feature, you can take calls, check out recent

updates on weather, maps, calendar, etc

.
You can even watch recipes on the screen while working in the kitchen which will make it a lot easier when you can take charge through voice control features.
Samsung Side By Side Refrigerator (
With Touch Screen

)
Usually Delivered in 19 - 20 days.
The Samsung RS74T5F01B4/TL is a high-end Samsung Family Hub Refrigerator that features multiple innovative technologies to change your home dining and entertainment experience. Apart from keeping your food items fresh for a long time, this home appliance lets you watch TV, play music, browse the...
5% Unlimited Cashback on Flipkart Axis Card
Extra ₹9000 off on All Credit/Debit card an
5% off* with Axis Bank Buzz Credit Card
No Cost EMI on Credit Cards
Get Samsung Galaxy Note10 Lite at Re.1
Rs.

196,990

Rs. 249,990
in stock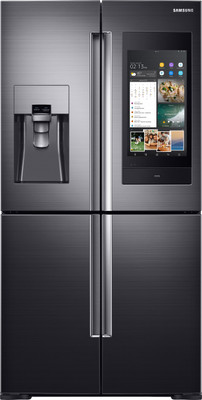 Usually Delivered in 7 - 8 days.
This Samsung French-door 810 L fridge is more than just an appliance that's used to keep food fresh. It comes with a Family Hub Screen that shows memos, tasks, instructions, activity lists and photos, you can also share and check family schedules and stay up-to-date. It also comes with 3 internal...
10% off on SBI Credit Card & EMI trxns
₹30 off on RuPay debit card tnx above ₹750
₹30 off on First UPI transaction over ₹750/-
₹75 off on RuPay debit card tnx above ₹7,500
Get ₹75 off on UPI transaction above ₹10000
5% Unlimited Cashback on Flipkart Axis Card
5% off* with Axis Bank Buzz Credit Card
Extra ₹12,000 Off on Exchange
No Cost EMI on Flipkart Axis Bank Credit Card
No Cost EMI on Credit Cards
Rs.

273,690

Rs. 350,000
out of stock
Samsung Side By Side Refrigerator (
Without Touch Screen

)